Is Graham's approach to value investing redundant?
Absolutely not. If you can adopt the necessary mindset, patience and discipline then it is still possible to be a very successful value investor. Unfortunately today, if you are looking to adopt some of Graham strategies then conditions in the UK stock market are quite difficult to say the least.
His favourite strategy was to buy shares for less than two thirds of what he called their net current asset value (NCAV) per share. NCAV is defined as current assets (stock, debtors and cash) less all liabilities. No value was placed on the company's fixed assets (such as buildings, plant and machinery). Graham reckoned that companies trading at such low valuations could be terrific bargains. However, he owned lots of shares meeting his criteria. It is difficult to do that today.
Below is a SharePad filter with some of the shares on the London Stock Exchange currently trading for less than two thirds of their most recent NCAV per share.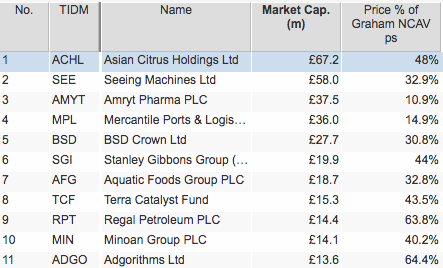 There are 40 shares which currently meet this criteria but most of them are related to companies with very small market capitalisations. Such stocks can be difficult to trade. They are often illiquid (not traded very often) and consequently expensive to buy or sell because of wide spreads (a big difference between their buy and sell prices).
A bit of crude back testing shows that buying some of the shares that met the criteria a year ago could have delivered some stunning results. Whether you could have bought these shares in meaningful amounts without paying eye-watering spreads is another matter.

However, you could have picked the wrong shares and ended up with massive losses (see table below). This shows the danger of blindly buying shares because they fit a numeric formula. It pays to do some research into the company's future prospects.