Why buy Unilever?
Kraft-Heinz has been struggling to grow sales as its food brands contain a lot of unhealthy processed products which consumers are shying away from. Cutting costs has been the only way to grow profits. The trouble with cost cutting is that you eventually run out of costs to cut - unless you can find another company to buy. This is where Unilever fitted in.

Unilever is one of the world's biggest consumer goods companies. It has a portfolio of well known food brands such as Marmite, Hellmann's, Ben & Jerry's and Knorr. However, most of its sales (58% in 2016) come from homecare and personal care products such as Surf, Domestos, Cif, Comfort, Dove, TRESemmé and Rexona.
In terms of turnover it is much bigger than Kraft-Heinz and has much lower profit margins. This is probably the main attraction of Unilever to Kraft-Heinz. With a bigger cost base to attack it could probably see the scope to make very big cost savings.
The other attraction is that Unilever is a much higher quality business as evidenced by its much higher ROCE. Kraft-Heinz's is nothing to shout about at all. Unilever has had a high and stable ROCE for some time now - the kind of business that Warren Buffett loves to own.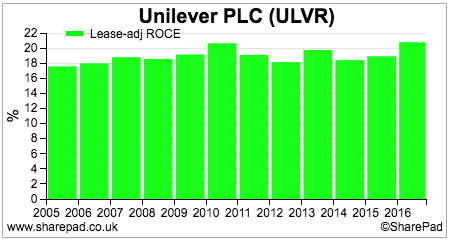 Then there is Unilever's geographic presence. Nearly 60% of sales are made in emerging markets where long-term growth rates are arguably much better than developed western markets. In stark contrast, Kraft-Heinz makes 70% of its sales in the USA.
Last, but not least is the attraction of Unilever's strong financial position. Its net debt to EBITDA ratio is only 1.4 times. Kraft-Heinz finances look more like a utility company with net debt to EBITDA of 4.6 times. It could have used Unilever's financial strength to add more debt in order to magnify the returns from cutting costs.
Like Kraft, Unilever has hit a bit of a rough patch recently. Its 2016 full year results were reasonable enough with 3.7% underlying sales growth and a modest improvement in operating margins but there was a marked slowdown during the last three months of 2016.
In both its developed and emerging markets, Unilever sold fewer products than the year before and in Europe had to charge less for them as well. The company is also having problems in the key emerging markets of Brazil and India.
However, what has spooked investors is the very downbeat 2017 outlook statement:
"Our priorities for 2017 continue to be volume growth ahead of our markets, a further increase in core operating margin and strong cash flow. The tough market conditions which made the end of the year particularly challenging are likely to continue in the first half of 2017. Against this background, we expect a slow start with growth improving as the year progresses."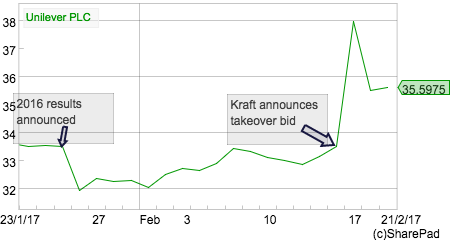 Unsurprisingly, Unilever's share price fell following this announcement. Investors and media commentators questioned whether the company was in trouble. This was an opportune time for Kraft to pounce.