Financial Performance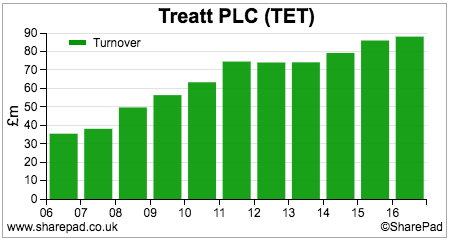 Turnover has been steadily increasing over the last five to six years but could hardly be considered to be stellar growth. Turnover growth was just 2.5% in 2016.
Of more importance is the company's ability to turn its turnover into profits.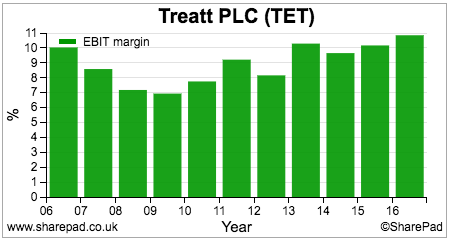 Trading profit (EBIT) margins are very respectable and were just under 11% in 2016. They have also been moving up as Treatt has been selling more innovative value added products which have higher profit margins.
High profit margins are a key sign of quality in any potential investment. Whilst Treatt is not earning the kind of profit margins achieved by big global consumer goods companies such as Reckitt Benckiser, the fact that they have been reasonably consistent and over 10% is a good sign.
Higher margins protect the investor from sudden profit declines and can make companies less risky. A company with profit margins of 11% is clearly more able to withstand a profit setback better than one with profit margins of 3%.
Treatt's profit margin history may also be telling us that its profits have been able to withstand the threat of competition, but more importantly the buying power of its large multinational consumer goods customers.
What is arguably more encouraging is that Treatt has been able to generate high and sustainable returns on capital employed (ROCE). This is often the sign of a very high quality business and one of the first things I look for in a company. Lease-adjusted ROCE in 2016 was 18.7% and has averaged 15% for the last ten years.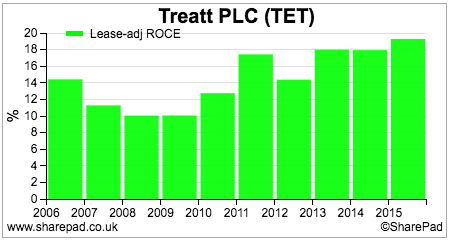 The other thing I spend a lot of time on when looking at a company is finding out how well profits and ROCE have held up in a recession. We can see here that there was a reduction in ROCE in the period 2007-09 which might be suggesting that the company suffered slightly. However, it is also possible that there was a business-specific issue behind the fall.
As with profit margins, ROCE has been on an upwards trend in recent years.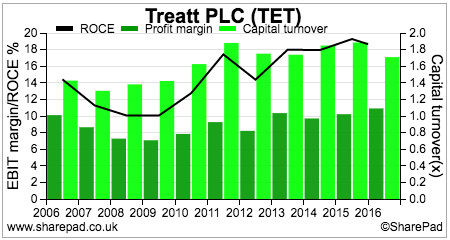 The Dupont analysis chart above is telling me that profit margins have been the main driver of ROCE improvement. Capital turnover (the amount of sales per £1 of capital employed) has declined slightly.
Improving profit margins are all well and good but significant growth requires meaningful sales growth as well. I'll have more to say on this important issue shortly.