Future prospects and valuation
Current trading is good - half year sales increased by 23.8% with trading profits growing by 19.7%. The interim dividend was increased by 12.5%.
The core Thorlux business is doing very well both in the UK and overseas. The TRT road, tunnel and street lighting business is also performing well and continuing its strong momentum following a record 2016. New capacity has just come on stream which has put this business on a good platform for growth.
The Philip Payne business, which sells specification exit signs (fire and emergency exits), Solite and Portland are also doing well.
New products also have the potential to produce further growth. The company's Smartscan wireless lighting control system is apparently proving very popular with customers and looks set to continue FW Thorpe's strong track record of introducing attractive and innovative new products.
There are a few areas of potential concern. The Compact Lighting business which makes lighting for retail outlets has been losing money. It is operating in an area where there is lots of competition and is selling into a declining sector of the economy. The company is trying to improve matters by merging product ranges and sales platforms with Thorlux. However, I would not be surprised to see this business closed or sold off in the future as FW Thorpe has a track record of getting out of underperforming businesses.
The Lightronics acquisition looks to be a good one. Trading here has been buoyant and the company, by its own admission, thinks it will be hard to replicate 2016's stellar performance. That said, trailing twelve month EBIT was £2.5m compared with £2.1m for 2016 as a whole.
Lightronics was meant to provide a platform for FW Thorpe to build a significant presence for Thorlux and its other businesses in Holland and nearby markets. This has not progressed as quickly as the company had expected but that doesn't mean that it will not happen eventually. The same issue can be cited with the company's stake in Luxintec in Spain.
2017 should be a year of strong profits growth but this looks to be increasingly reflected in the company's share price and valuation. At 354p, the shares trade on a very high 29.5 times trailing twelve months (TTM) EPS.
However, at 31st December 2016 there was £35.7m of cash on the balance sheet which equates to 30.1p per share if this is representative of the cash balance throughout the year. Cash balances inflate PE ratios. If this is adjusted for, FW Thorpe's TTM PE falls to 27 times which is still pretty punchy. The shares are trading at historic highs on a rolling PE basis.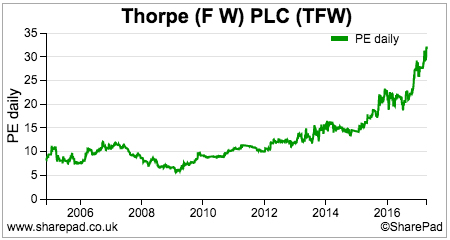 I think FW Thorpe deserves a high valuation given its high levels of profitability and current rates of growth. I'm not sure whether the valuation of its profits can command a much higher multiple than it currently has but continued strong profits growth could see long-term shareholders continue to make money from owning the shares. As always, when valuations are as high as this, there is little room for disappointment in terms of profit performance and growth.