Financial performance
Howden's business performance and strong growth has translated into some very impressive financial performance numbers.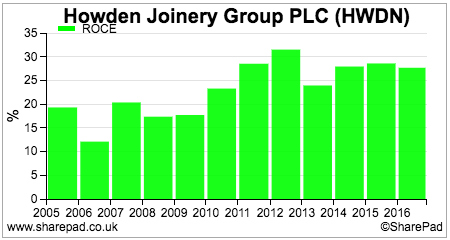 Return on capital employed (ROCE) has been excellent. The chart above takes into account a capitalised value of off balance sheet lease liabilities (c£500m in 2016) and ROCE was still over 27% in 2016.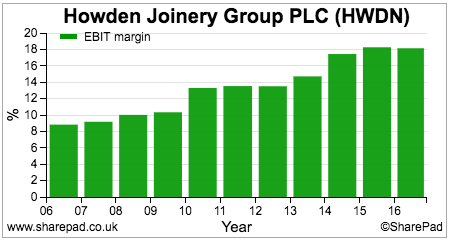 Profit margins are high and have been increasing. As I've said before, I like companies with high profit margins for two main reasons. First and foremost they can be a sign that a company has a business with an economic moat - a business model that is hard to copy and compete with.
High margins also offer the investor a large amount protection from financial problems in the event of a temporary profit setback. Businesses with low profit margins can get into trouble and even start losing money when times get tough. This risk is low with Howden.
Where Howden does not shape up as well is on its cash flow performance.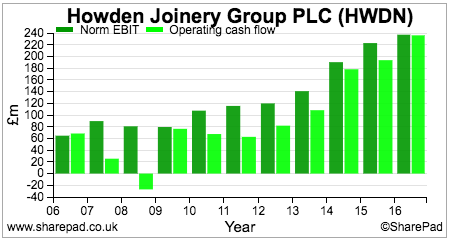 The business carries high levels of stock (inventories) in order to provide high levels of customer service whilst also making the vast majority of its sales on credit. This makes the business very working capital intensive when sales are growing. This is shown by the fact that operating profits don't tend to fully convert into operating cash flow, although the company did do a good job in this respect in 2016.
The weakish cash conversion at the operating or trading level flows through to the post tax or shareholder level. The company has a poor track record of converting profits (EPS) into free cash flow. This has increased in recent years due to increasing rates of investment in the business in the form of new depot fit outs, new warehousing and an upgrade to manufacturing plants.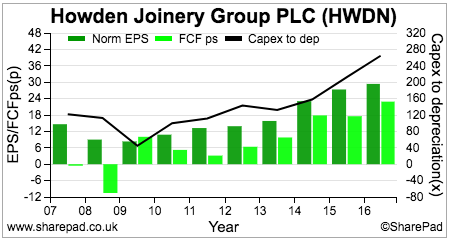 The company's cash conversion should not in any way be seen as a sign of profit manipulation in my view. It is just a result of the nature of the business and how it finances its growth.
If stock levels and trade debtors as a percentage of sales were increasing significantly then I would be more concerned. They are not. Stock levels have been relatively consistent, as shown in the chart below, but have increased since 2014.
The one issue of stock performance that does need watching is the write down of stock values. These are not yet big enough to worry about but these have reduced profits by around £7m during the last couple of years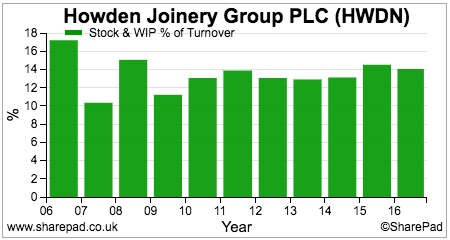 Stock levels in retail and manufacturing businesses need to be watched closely. They can be a source of profit manipulation and also a sign of possible impending trouble.
What I am going to describe is quite advanced financial analysis but hopefully something that some readers will find useful.
| Howden Inventory analysis | 2011 | 2012 | 2013 | 2014 | 2015 | 2016 |
| --- | --- | --- | --- | --- | --- | --- |
| Raw materials | 3.7 | 3 | 3.4 | 4.2 | 5 | 5 |
| Work in progress (WIP) | 2.8 | 2.6 | 2.7 | 4.1 | 4.5 | 4.2 |
| Finished Goods | 123.5 | 121 | 129.3 | 147.2 | 184.4 | 196.9 |
| Gross value of inventories | 130 | 126.6 | 135.4 | 155.5 | 193.9 | 206.1 |
| Allowance against carrying value | -11.5 | -10.7 | -12 | -12.4 | -16.8 | -22.4 |
| Balance sheet value | 118.5 | 115.9 | 123.4 | 143.1 | 177.1 | 183.7 |
| Analysis: | 2011 | 2012 | 2013 | 2014 | 2015 | 2016 |
| Sales | 853.8 | 887.1 | 956.5 | 1090.8 | 1220.2 | 1307.3 |
| Gross stocks as % of sales | 15.23% | 14.27% | 14.16% | 14.26% | 15.89% | 15.77% |
| Stocks as % of sales | 13.88% | 13.07% | 12.90% | 13.12% | 14.51% | 14.05% |
| Finished goods as % of sales | 14.46% | 13.64% | 13.52% | 13.49% | 15.11% | 15.06% |
| Allowances as % of gross value | 8.85% | 8.45% | 8.86% | 7.97% | 8.66% | 10.87% |
SharePad calculates the ratio of stocks to turnover which is very useful. You should be wary of a rising ratio as it may be a sign that demand for a company's products is softening and that stock values will have to be written down which will reduce profits. Overheads can be allocated to stock values and increases in stock levels can be a way of shifting expenses away from the income statement to the balance sheet to boost or preserve profits.
However, as with many things in financial analysis the devil is in the detail. A bit of digging can give you some valuable extra information about a company which might come in handy.
Above is the breakdown of Howden Joinery Group's balance sheet inventory/stock position. The year end values of raw materials, work in progress and finished goods are added together before an allowance for impairment (loss of value) is taken away to get the inventory value that is disclosed on the balance sheet.
Stocks have to be shown on the balance sheet at the lower of cost or net realisable value (NRV). If the value of stock falls below cost then the balance sheet value is written down and the reduction in value is charged as an expense against revenues and reduces profits.
What we can see with Howden is that the allowance against carrying value (the write down in value) as a percentage of the gross value of stocks increased significantly in 2016. Nearly 11% of the value of stocks has been impaired. Could this be a sign that the demand for some of Howdens' products is softening and this is requiring a reduction in value of stocks?
This reduction in value has depressed year end stock levels and makes the stock to sales ratio lower than it would be. We can see that excluding the value of impaired stocks, the stock to sales ratio has increased from 14.3% to 15.8% since 2014.
The other ratio worth calculating is the value of finished goods as a percentage of sales. A rise in this ratio can be a sign of a slowdown in sales ahead or poor inventory management. This ratio has stepped up from 2014 and is at its highest level since 2008.
I think this trend is worth keeping an eye on. It could of course be perfectly innocent. This is because the ratio is comparing a year end balance sheet value with a year's sales. If a company is building up stocks in advance of opening a new depot then the ratio could rise temporarily and might not be the sign of anything concerning going on.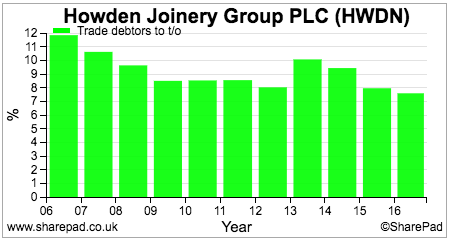 Trade debtors as a percentage of sales have been coming down which is a good sign of credit control. This also provides some reassurance that the big increase in credit accounts per depot is not artificially boosting sales.
The company has a good track record on bad debts. The provision for bad debts barely changed in 2016 at £8.7m and is comfortably less than 1% of sales. Invoices overdue fell slightly to £18.9m (1.4% of sales) but these have not been written off or reduced profits as the company believes that the credit quality remains intact for now. The company did expense £5m for bad debts in 2016 compared with £4.7m in 2015.
Howden's financial position is very healthy. It has no balance sheet debts and a cash balance of £226m at the end of last year. There is a small but manageable pension fund deficit.
The company is very prudent when it comes to its finances. The cash balance is essentially used to fund most of its working capital position throughout the year so that it doesn't have to resort to borrowing. £80m of surplus cash requirements have been used to buy back shares having spent £70m and £55m in 2015 and 2014.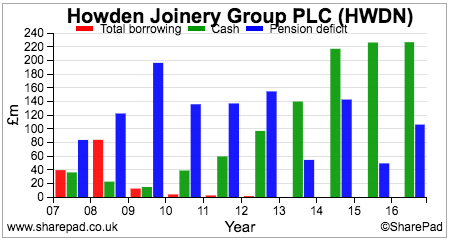 Taking into account the significant off balance sheet lease liabilities, the company's financial position still looks very sound with fixed charge cover in 2016 at a very comfortable four times.