In the vast majority of cases, the frothy valuations attached to some shares in the TMT bubble never came close to being justified and many investors ended up losing lots of money when the expected profits never materialised. But lots of smart, short-term traders also made fortunes by riding the momentum whilst it lasted.
The current stock market feels very similar in many ways.
I think there are sections of today's stock market where valuations are also very frothy indeed - especially for companies with rapid profits growth. The big difference between now and the late 1990s is that at least some of these expensive companies actually have some profits.
The other big difference is that during the late 1990s and early 2000s the valuations of solid, dependable businesses became very cheap as fund managers shunned them for supposedly hot growth stocks. These were rich pickings for the long-term investor who wasn't under pressure to beat the market every three months.
I don't think these kinds of opportunities are very plentiful today. Yes, there are a few pockets of decent value but most cheap shares are cheap because they are poor quality businesses facing difficult business environments. In other words, they are cheap because they deserve to be.
The valuations of established, high quality businesses are becoming very stretched given a backdrop of modest underlying growth (masked by growth in overseas profits from the devaluation of the pound) and rising inflation which should be putting pressure on valuations but doesn't seem to be.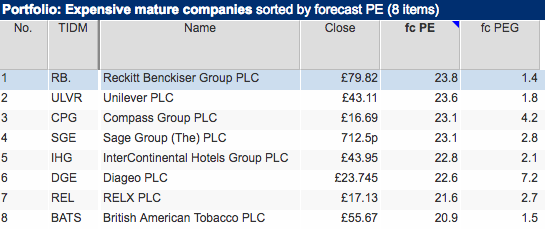 History tells us that paying high valuations for shares is a very risky thing to do and can increase the chances of losing money. This is due to the companies behind them being unable to produce the profits growth that is baked into their share prices. Any form of disappointment tends to be severely punished with a sharp fall in the share price.
So how should investors view highly priced shares in today's markets?
Below is a selection of very richly valued shares which have made lots of money for people who have owned them over the last year(s). However well these companies have performed, and whatever the expectations of future growth, it is not unreasonable for people to ask whether the shares are too expensive and therefore have a high degree of risk attached to them.
| Name | Close | Market Cap (£m) | PE | Debt Adj PE | fc PE | PE 20/6/16 | EPV yield (8%) | EV/Sales |
| --- | --- | --- | --- | --- | --- | --- | --- | --- |
| boohoo.com | 254.25p | 2913 | 117.7 | 120.2 | 87.7 | 40.6 | 10.5 | 9.7 |
| Hotel Chocolat | 320p | 362.8 | 48.6 | 47.4 | 42.7 | 31 | 23.1 | 4 |
| Abcam | 977.5p | 2026.2 | 46.5 | 44.4 | 39.3 | 31 | 27.5 | 11.2 |
| Just Eat | 657.5p | 4481.7 | 65.9 | 64.3 | 39.1 | 64.7 | 19.6 | 11.7 |
| Fevertree Drinks | £17.00 | 1932.6 | 72.5 | 70.1 | 64.9 | 41.3 | 17.8 | 18.9 |
| Purplebricks | 381.75p | 1056.7 | | | | | | 53.9 |
Looking at the most common valuation yardstick such as the price to earnings (PE) ratio all these shares would be considered expensive. On a trailing PE basis, you can see that all of them are also more richly valued than they were a year ago.
But if you own these shares or are trading them how confident are you that these shares will continue to go up in price? After all, the rich valuations are telling you that a large amount of future profits growth is already taken for granted. Sure, you could have made the same argument a year ago but that doesn't mean they will continue to go up from here.
One of the valuations I rely on a lot is a company's earnings power value (EPV). EPV gives me a value for a share based on its current profits staying the same forever (to read more about EPV click here). Of course, lots of companies' profits won't stay the same forever. The hope is that with good companies their profits will be a lot higher in the future. But what EPV allows me to do is get an estimate of how much of a current share price is explained by its current profits?
If we take boohoo.com as an example. We already know that it has a high PE ratio. Its high valuation is also confirmed by its EPV yield. This is EPV as a percentage of enterprise value (EV). In this case, it is telling us that only 10.5% of Boohoo's current EV is explained by its current profits with most of it explained by future growth expectations. Can it deliver these and is it already priced into the shares?
All the other shares in the table above also have very low EPV yields which again highlights the strong growth expectations baked in to their share prices. Investors should not be afraid to pay up for growth, especially for high quality companies but should perhaps set a limit on how much future growth they are willing to pay up for if they don't want to risk getting their fingers burned.
I must admit that I am too risk averse to make money from owning richly priced shares no matter how good the companies might be. I tend to set myself a limit of paying no more than twice EPV (a price/EPV multiple of 2 or less) for a share. This means, I have set a limit of no more than 50% of the company's valuation to be explained by future growth. It also means I have missed out on some massive gains on many shares but I can live with that.

SharePad users: I have used the Combine items feature to create the Close/EPVps column.