The threat of inflation
It is often said that shares are a good hedge against inflation. I think that's only partly true. When inflation is modest - say 3% or less - then history tells us that shares can do well. If inflation lets rip, as it did in the 1970s then shares can be a very bad home for your money.
I don't think we are anywhere near the return to the hyperinflation of the 1970s or even the high levels of inflation seen in the late 1980s. However, inflation does seem to be on an upwards curve with the retail price index (RPI) now at 3.7%.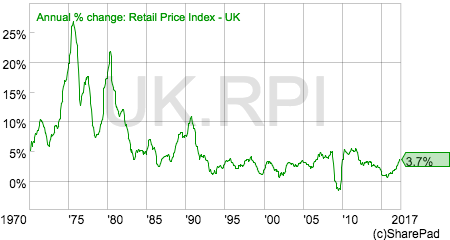 Whatever your aim is as an investor, your bare minimum objective should be to beat inflation. Inflation reduces the buying power of money. Investment returns below the rate of inflation means that your portfolio will buy less stuff and leave you poorer.
What does rising inflation mean for investors?
The outcome can be quite benign if companies can preserve their profits by passing on increases in costs to their customers. This is not easy when many consumers in the UK are seeing their wages grow slower than inflation which means their monthly pay packets will buy less goods and services. This backdrop makes it harder for companies to grow their earnings.
However, rising inflation can have significant implications for investors in growth stocks. Growth companies are expected to have much higher profits in the future than they do today. Higher inflation means that the buying power of those future profits - and therefore their value - will fall. As share valuations are the estimated value of future profits in today's money (or present value), higher inflation can do significant damage to the share prices of growth stocks.
Value stocks - cheaper shares - have a much higher proportion of their value explained by their current profits. This makes them less vulnerable to a rise in inflation.
What I am essentially arguing here is that the PE ratio of shares should fall when inflation rises. This means that higher valued shares are more vulnerable than lowly valued ones.
Let me explain why.
Over the last 30 years or so, gilt yields have averaged around 3% more than inflation as measured by the retail prices index (RPI). This is because investors rightly demanded a premium return over inflation to preserve and grow the buying power of their money.
In recent years, that inflation premium has disappeared entirely as the gilt market and interest rates in general have been manipulated by central bankers. The yield on 10 year gilts is significantly less than inflation and has been for some time. This scenario can explain why the stock market has been so buoyant as investors have chased the higher yields available on shares.
But how long will this last?
Below I try to show how the PE ratio on shares in general - ignoring company-specific growth rates - changes with inflation. It is based on the Warren Buffett valuation model of cash profits. Here the valuation of a business is determined by dividing cash profits by the long-term yield on government bonds.
By adding 3% premium to rate of RPI inflation, the investor is using a much more conservative interest rate to value shares than using an artificially low gilt yield. This gives them some protection against overpaying for shares.
You work out the maximum PE ratio by taking your inflation-adjusted interest rate and taking the reciprocal of it. This is calculated as one dividend by the interest rate as shown in the table below. This is not meant to be an exact science, more a way of showing you the impact that inflation can have on business valuations.
| RPI Inflation | Premium | Interest rate | Reciprocal/PE |
| --- | --- | --- | --- |
| 1% | 3% | 4% | 25 |
| 1.40% | 3% | 4.40% | 22.7 |
| 2% | 3% | 5% | 20 |
| 3% | 3% | 6% | 16.7 |
| 3.70% | 3% | 6.70% | 14.9 |
| 4% | 3% | 7% | 14.3 |
| 5% | 3% | 8% | 12.5 |
| 10% | 3% | 13% | 7.7 |
| 15% | 3% | 18% | 5.6 |
| 20% | 3% | 23% | 4.3 |
What you can see is that the PE ratio falls as inflation rises. A year ago when inflation was 1.4% a PE ratio of 22.7 would have been acceptable according to this approach. Now it is suggesting something nearer 15 due to the rise in inflation.
In 1974, at the trough of the 1970s bear market, the PE on the London market was close to 4 times as inflation neared 20%.