The fact that Castings is still in business is testament to the strategy pursued by its management. Not so long ago there were people who questioned whether foundries could exist in the UK. It was thought by some that it was the type of business that would gravitate to the Far East and low cost operators.
This doomsday scenario has not come to pass. The big truck and automotive customers have put quality and local supply chains ahead of costs. Companies such as Castings have also played a part in staying relevant to its customer base.
It has invested heavily in new, better technologies - such as 3D printing and scanners - to give it the capability to make better and more cost-effective products for its customers. Well-invested plant and machinery has also made the production process more efficient and potentially more profitable when demand levels are good.
Castings has developed a loyal fan base amongst investors and has been lauded for its simple, straight-talking approach, well-invested asset base and sound financial position. Yet as the chart above shows, its share price has been very volatile. This is largely due to the fact that its fortunes are largely out of its control as customer demand for its products has a tendency to be patchy.
The company does not tend to say too much about what is going on with its business. Its annual and interim reports tend to be quite short and to the point on detail. However, with a bit of digging it is possible to understand this business a little better.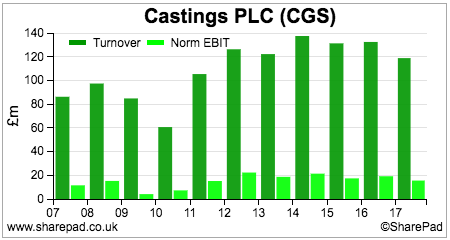 One of the first things I do when I first start looking at a company is to try and find out what happens to its sales and profits in a recession. I like to own shares in resilient businesses and try to minimise my risks of owning a share at the wrong time in the economic cycle.
As you can see from the chart above, Castings is a cyclical business as shown by the fact that its sales and profits fell quite heavily during the last recession. This is confirmed by a study of its long-term operating (EBIT) margins.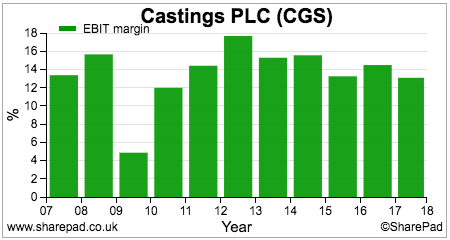 The current EBIT margin is just over 13% which is broadly in line with its ten year average. This is a decent level of profit margin which gives the company a reasonable degree of protection from a downturn in demand. As you can see, this is needed as margins plummeted in 2009. Note that margins have been on a downwards trend since peaking in 2012 and this is something that needs to be watched.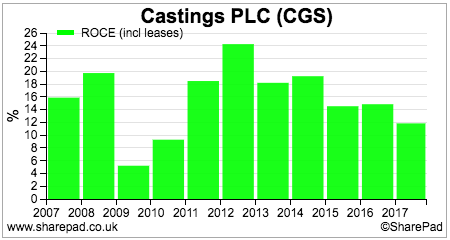 A similar trend has been playing out with Castings' return on capital employed (ROCE). It has been falling for the last five years and now stands at 11.6% compared with a ten year average of 15.6%. This suggests to me that Castings is a very reasonable business but not a great one.
Its business has also been very capital intensive over the economic cycle as evidenced by capex as a percentage of operating cash flow - its capex ratio - averaging 66% over the last decade.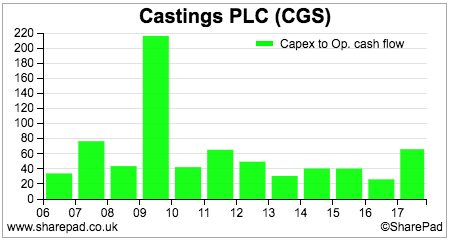 This has resulted in a not particularly good performance of turning its profits into free cash flow.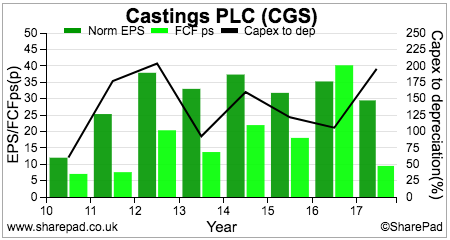 Yet over the last decade, the company has produced sufficient cumulative free cash flow to pay its annual dividend to shareholders. Castings also paid a one-off special dividend last year.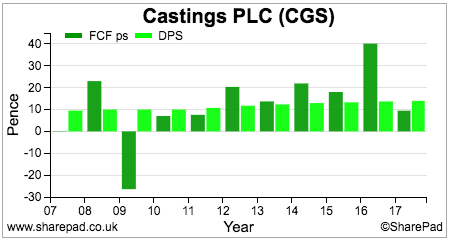 All the investment and dividends paid out has been done with a debt-free balance sheet and without asking shareholders for new money. The company does have a final salary pension scheme which is currently in surplus to the tune of £16.8m. This is not shown as an asset on the balance sheet as the company has no right to receive any refunds from this surplus.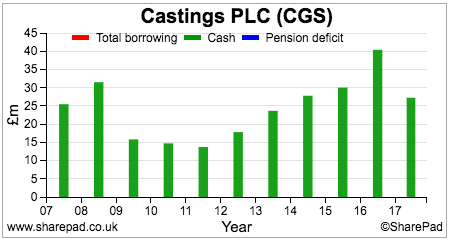 The fact that Castings has cash balances reduces its risk to shareholders. Its business has quite high fixed costs and therefore high levels of operational gearing - meaning its profits are very sensitive to changes in sales - and so there is a significant risk already without adding debt to its balance sheet.