Tesco shareholders
Weighing up a takeover as an investor in the buying company is very straightforward. You ask exactly the same questions and do very similar analysis as if you were buying a share of the target company yourself. In other words, you already own shares in Tesco and are thinking of buying some shares in Booker.
As always, you are trying to answer two fundamental questions:
Is it a good business?
Can I buy it for a good price - less than it is worth?
You can read my previous analysis of Booker in February 2016 here. I think it's a fairly decent business. It has been producing reasonable returns on capital employed (ROCE) for a few years as shown below.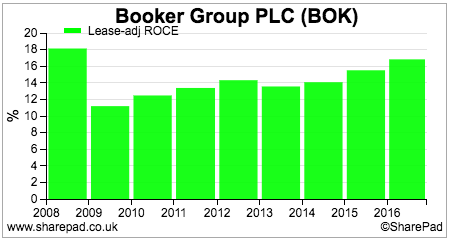 It also has good quality profits as it turns most of them into free cash flow.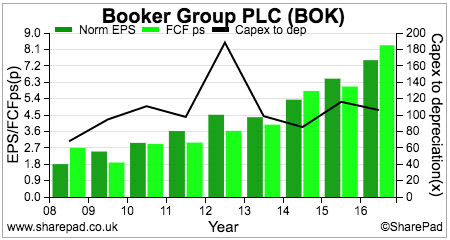 On top of this, Booker has no debts, a healthy pile of cash on its balance sheet and a small and manageable pension fund deficit. Current trading is also very strong with non-tobacco like-for-like sales growing by 5.1% during the 16 weeks to 30th December 2016.
My chief concerns are that tobacco sales are still a major chunk of its sales (around 30%) and that the company's growth might have been too reliant on buying companies in recent years.
That said, Booker is almost the polar opposite to Tesco in terms of quality hallmarks. In stark contrast to Booker, Tesco's ROCE and free cash flow performance has been very poor in recent years. It also has lots of debt and a big pension fund deficit.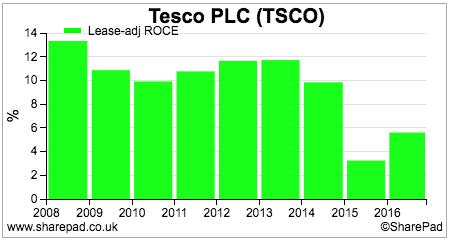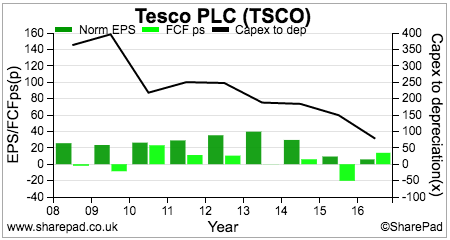 So from a Tesco shareholders' point of view it seems that Booker will improve the underlying quality of the business.
But is Tesco paying too much for Booker?
In my opinion, the best way to weigh up an acquisition is to look at the return on investment (or ROCE) of the deal. To this you need the following bits of information which you can quickly and easily find in SharePad:
The price Tesco is offering.
Booker's current or expected profits.
The value of outstanding debt, cash balances and pension fund deficit.
This will allow you to compare the profits being bought with the enterprise value (the value of equity, net cash/debt and pension liability) being paid.
Tesco is offering 42.6p in cash and 0.861 Tesco shares for each Booker share.
Based on the closing price of Tesco shares of 189p on 26th January 2017 (the day before the deal announced) and the 1777 million Booker shares in issue this equates to 205.3p per share and an enterprise value of £3.6bn shown in the table below.